Main Content
Case Studies - ADA
Accessibility for the win
When a business decision puts you on a path to doing well and doing good at the same time, that's the ultimate win-win.
At Millennium, we've been watching the emerging trend of web inclusivity for people with physical and cognitive impairments for years, and we've become experts on the subject. Just like brick-and-mortar businesses have broadened their accessibility to an underserved consumer base by becoming wheelchair accessible, so should your business be taking steps to do the same in the digital world.
View text version

of infographic
Each day, hella huge amounts of digital content floods the web—the majority of which is designed to be accessible to the masses. But what about those with impairments that make typical web browsing impossible? They are an underserved audience of more than 30 million that yearn for—and have a legal right to—access to your content. They can also help your business grow.
Millennium can help you take the first steps towards web accessibility by taking a closer look at your digital communications to achieve compliance that conforms with best practices and mandates indicated by ADA (the Americans with Disabilities Act), which are fast becoming pervasive.
The W3C created the Web Content Accessibility Guidelines (WCAG), a set of 12 guidelines organized under 4 principles: Perceivable, Operable, Understandable, and Robust. The 2.0 version of the guidelines is designed to offer development techniques and testable success criteria at 3 levels: A, AA, and AAA
The WCAG 2.0 guidelines range from the general to the granular, right down to visual contrast ratios, alternative text, screen flicker, and much more. These standards and practices have become a part of Millennium's creative and engineering DNA.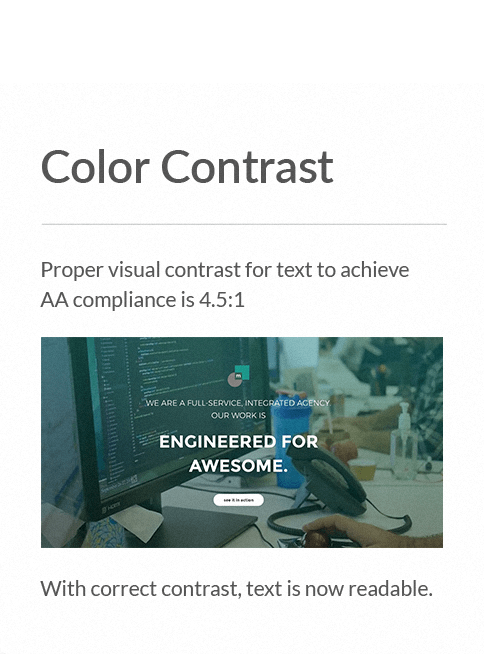 We even lend our expertise to other firms to help ensure their work is compliant, as well, because that's sorta how we roll. The result? Better digital engagement for everyone. And that matters.

Did you know
that closed captioning and transcripts are not enough to meet AA compliance? You'll also need audio that describes the action within.
The shortlist for ADA compliance:
Ensure proper contrast ratios for text
Enable control over a website using just the keyboard
Create alternative text for images and hidden text to further explain links
Write alternative audio tracks, transcripts and close captioning for videos
Modify confusing content, error messaging and iconography to be more understandable, relevant and consistent
Provide controls for animation and video
Implement proper HTML structure
Universal access to the digital world is a reality—not somewhere off in the distant future, but right now. It's the right thing to do for your business, and the right thing to do, period.
Evolve your digital content for our inclusive world:
Show me how